Azoxystrobin 95%TECH|Azoxystrobin 70% WP| Azoxystrobin 250G/L SC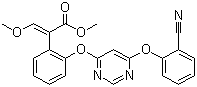 Product Name: Azoxystrobin
Trade name: Abound, Amistar, Heritage, Quadris, Admire.
CAS No.: 131860-33-8
Appearance: Yellowish white solid
Content: ≥95%
Chemical Name: methyl(αE)-2-[[6-(2-cyanophenoxy)-4-pyrimidinyl]oxy]-α-(methoxymethylene)benzeneacetate
Molecular Formula: C22H17N3O5 Molecular Weight: 403.4
It features good effect and broad spectrum; has good activity to almost all fungous diseases, such as powdery mildew, rust, glume blight of rice, downy mildew, rice blast etc. Use level: 25▲400g/hm2.
Tech product is brown solid, M.P.114▲116°C. Pure product is white crystalline solid, M.P.116°C. Relative density: 1.34, vapor tension: 1.1×10-7mPa(20°C). Solubility in water: 6mg/L(20°C), slightly soluble in hexane, n-octyl alcohol, soluble in methanol, acetone; easily soluble in ethyl acetate, acetonitrile, dichloromethane etc.
Packaging & Delivery
| | |
| --- | --- |
| Packaging Detail: | 200L Iron Drum; 200L Plastic Drum; 100L Iron Drum; 100L Plastic Drum, 20L Iron Drum; 20L HPDE Drum; 20L Fluoride Drum;10L HPDE Drum; 10L Fluoride Drum; 5L co-ex Bottle; 5L HPDE Bottle; 1L co-ex Bottle; 1L HPDE Bottle; 500ml co-ex Bottle; 500ml HPDE Bottle; 250ml co-ex Bottle; 100ml co-ex Bottle; 50ml co-ex Bottle or according to customer's requirement |
| Delivery Detail: | Prompt shippment |
Azoxystrobin 250g/L SC
1.Formulations:≥95%Tech, Azoxystrobin 95% TECH Azoxystrobin 70%WP Azoxystrobin 25%SC
2.Package:25Kg Paper Drum
Any question regarded please contact :
Windows live Chat(MSN):